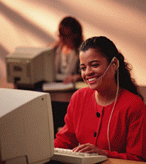 Welcome to the internet-telephony guide.
This service is for both home and business users. It contains useful tips on how to save up to 90% on long distance call charges.
If you have a multimedia computer and an internet connection, then read on!! We also offer broadband internet phone services. Turn your internet connection into a second phone line with an IP-phone or an ATA.
Check out our cheap international phone call rates!
We also offer a consulting service for businesses wanting to save on telecomunication charges.